If you want to die quickly, sleep with a Luba woman.
Wait a minute! I know what you're thinking.
You must be saying, "a few weeks ago you wrote about how to marry a Luba woman (see story); now you're telling us you can die if you sleep with her?"
Not exactly. If you have given a dowry for her, you are safe. If you have not, that's when you die. Death is issued as a punishment for breaking the Luba law: sleeping with a woman you have no business sleeping with.
You might feel this is a bit harsh. However, one must understand the ramifications of such an act. In the traditional Luba society, when a woman sleeps with a man and that fellow does not marry her, she loses the chance of ever getting married. No marriage means no dowry received. Her whole family might crumble (see Book of Dowry).
So you can see why the woman's family would want to kill you. You get the choice of two types of death, depending on the family you have offended.
Some have a tendency to kill by poison. In my village, I think it would be by lightning. We think it's more precise. The outraged family would wait until you are alone in the house, then will send lightning that will burn down the house with you in it.
At the National Library of France yesterday, I found a kasala, a Luba song that tells the story of a man who slept with a woman and was punished by lightning. The man was named Kayembe and the song was written from his perspective. My guess is Kayembe did not survive the lightning strike and the song was post-mortem:
Kayembe A.K.A. "The-Vagina."
My brothers and sisters, tell me:
What did I do that was so serious?
I did not stab G-d
I did not even insult Him.
All I did was admire beauty!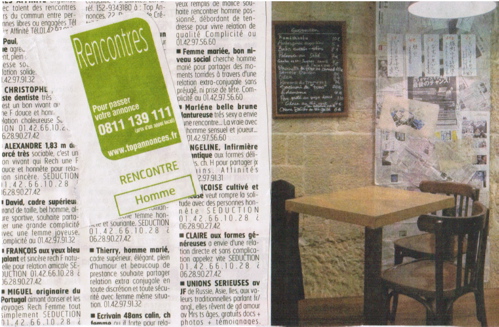 Above is a postcard I made out of an ad found in one of those free daily papers one can pick up at any metro station in Paris. The central ad reads,
"Thierry, married man. Elegant executive with humor, fit to be seen, wishes to engage in extra-marital relationship in all discretion and security with woman in similar situation."
The ad ends with a phone number, not a cell phone number, but a landline telephone number!
That's kind of shocking since the ad is placed in a Western society where monogamy is the rule.
I recently asked the patriarch of my family why so many Baluba men have multiple wives. He replied, it is so they would not go looking for other women elsewhere.
His answer surprised me since I had expected Luba polygamy to exist for the purpose of engendering as many children as possible. Children are the primary reason for polygamy, my uncle admitted. A reader had guessed well, regarding the story "Multiple Wives."
Luba men are polygamous in order to have a lot of kids, who will later care for them as they grow old. So yes, it is a form of social security system.
However, the Luba society allows men to marry several wives for a second very good reason.
"Men are going to run after many different women anyway," my uncle said.
Personally, I don't believe that all men (Luba or not) are all womanizers. My uncle himself has only had one woman for 60 years.
The patriarch carried on. Luba men are encouraged to make those relationships legal and public, One. So that there could be no illegitimate children. Two. So that those men would be fully involved in the lives of their several wives.  This was a good way to keep them busy and decrease the likelihood of them wandering in the street looking for more.
So here is an idea.
If French men start to marry let's say two or three women, they would be so occupied with their wives that they won't have time for any extra-marital affairs.
You see, the Luba resolution could potentially be used to solve the French quandary.
So you have fallen in love with a Luba woman and asked her to marry you. Contrary to Western norms,  this is only the beginning of a long journey to marriage. 
STEP #1: You need to introduce yourself officially to your girlfriend's parents. Avoid going alone.
I still remember my sister's boyfriend coming to introduce himself. He came to our house _ alone _ with my sister hanging on his arm, very much in love. The boyfriend was not wearing a suit, but was rather dressed as if he was going to a party: flashy shirt and pants, topped with pink glasses shaped as hearts. I knew right away this was not going to be a good introduction. I was right. My Dad arrived, took one look at the scene, barked "What is going on here?" and threw the young man out of the house. 
To show up alone at our house signaled to my Dad that this man was not taking himself seriously, nor respecting our family. For Luba people, marriage is a serious matter; it is a contract not only between two individuals, but also between their two families. So a suitor must come with his parents and siblings to ask for the girl's hand. My sister's boyfriend had to re-introduce himself properly _ this time with his family members.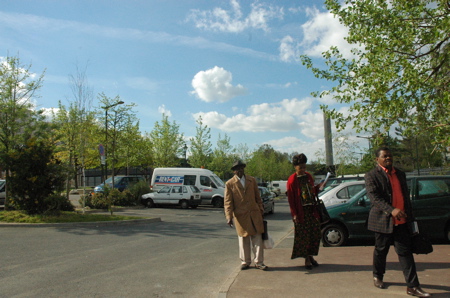 THE UNOFFICIAL STEP #2: Expect to get investigated.
The Luba investigation has to do with integrity. Both families will likely do a background check on each other to see if the man (or the woman) is indeed what he portrays himself to be and that there are no skeletons in his closet. 
Paranoid, you think? 
My family started to ask around about my sister's boyfriend: his job, his habits, who was his family? Where did they all go to school … everything. It turned out the man was separated, but still legally married to his wife AND he had children; details he had failed to mention to my sister. Thanks to this investigation, my sister had all the facts laid out in front of her and was now free to make a decision with more clarity.
STEP #3: The Dowry.
You have survived the investigation and are still considered marriage quality. Congratulations! Now we can proceed. 
It doesn't matter whether you are American or French, whether this is the 21st century or the 19th. When it comes to marrying a Luba woman, you can only do so the Luba way _ with a dowry.
The dowry has several objectives, but for the sake of this article, we will focus on one meaning. "La dote," as it is called in French, is a marriage contract, the symbol of agreement between two families. 
The dowry can range from 50 cents to more than 1000 euros. Before modern money, the dowry was paid in Luba currency of copper crosses. The girl's family determines the amount, which in itself is not important. It is the token of the dowry, changing hands from one family to the other, that is crucial.  
If you accomplish all these steps, you will be well on your way to winning the hearts of your future Luba in-laws.
I have left out a few details, goats and such… but you'll find out later.
Bruxelles _ My niece Ngoya is coming to pick me up. I had not seen her in 5 years. She lives in Kinshasa and we are both in Belgium at the same time for a few days. When she arrives, we sit down over ice cream and chat. A Belgian friend of mine joins us. 
He must have been smitten by my niece, because right away he starts to talk about how beautiful she is. Soon the word marriage pops out of his mouth.  I look at him in shock. My niece pretty much ignores him, as she texts on her Blackberry.
Luba Dating: Taboo #1.  
Don't talk about marriage the very first second you meet a girl. And even if you are kidding, you do not joke about such things. His behavior was inappropriate, especially among the Baluba.
The following day, since my Belgian friend is a nice guy, I decide to tell him gently the faux pas he had committed. 
"Dude! You were hitting on a girl in front of her mother. You don't do that."
As he looks at me puzzled, I continue. For Luba people, there is no concept of niece or aunt. These words do not even exist in the Tshiluba language. My niece is actually my daughter and I am her mother.
"In conclusion, you were wooing my daughter right in front of my eyes! AND without my permission!" 
"Oh, so it would have been o.k. if you, the mother, had given me permission to date your daughter?" He asks.
"Even with my permission, you can't slobber over a girl in front of her mother. It's so vulgar. Besides, that will only make the girl run away from you." No Luba woman would want a man who behaves like that.
(…unless of course, the woman was after his citizenship. But here, my Belgian friend is out of luck; my daughter-niece already has her Belgian citizenship. So no interest there).
"O.k." my friend says "I'll marry her and make it all proper." He turns to a man who walks in the reception area and introduces me as his my mother-in-law. 
Luba Dating: Taboo #2. You do not have permission (nor the honor) of calling anyone, your mother-in-law when you haven't even paid the dowry.
Bye!