So you have fallen in love with a Luba woman and asked her to marry you. Contrary to Western norms,  this is only the beginning of a long journey to marriage. 
STEP #1: You need to introduce yourself officially to your girlfriend's parents. Avoid going alone.
I still remember my sister's boyfriend coming to introduce himself. He came to our house _ alone _ with my sister hanging on his arm, very much in love. The boyfriend was not wearing a suit, but was rather dressed as if he was going to a party: flashy shirt and pants, topped with pink glasses shaped as hearts. I knew right away this was not going to be a good introduction. I was right. My Dad arrived, took one look at the scene, barked "What is going on here?" and threw the young man out of the house. 
To show up alone at our house signaled to my Dad that this man was not taking himself seriously, nor respecting our family. For Luba people, marriage is a serious matter; it is a contract not only between two individuals, but also between their two families. So a suitor must come with his parents and siblings to ask for the girl's hand. My sister's boyfriend had to re-introduce himself properly _ this time with his family members.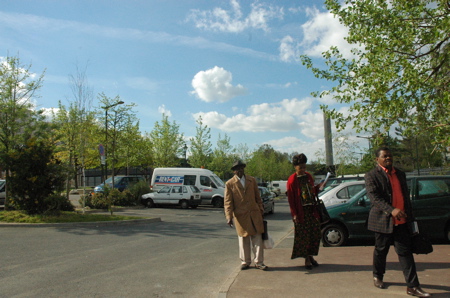 THE UNOFFICIAL STEP #2: Expect to get investigated.
The Luba investigation has to do with integrity. Both families will likely do a background check on each other to see if the man (or the woman) is indeed what he portrays himself to be and that there are no skeletons in his closet. 
Paranoid, you think? 
My family started to ask around about my sister's boyfriend: his job, his habits, who was his family? Where did they all go to school … everything. It turned out the man was separated, but still legally married to his wife AND he had children; details he had failed to mention to my sister. Thanks to this investigation, my sister had all the facts laid out in front of her and was now free to make a decision with more clarity.
STEP #3: The Dowry.
You have survived the investigation and are still considered marriage quality. Congratulations! Now we can proceed. 
It doesn't matter whether you are American or French, whether this is the 21st century or the 19th. When it comes to marrying a Luba woman, you can only do so the Luba way _ with a dowry.
The dowry has several objectives, but for the sake of this article, we will focus on one meaning. "La dote," as it is called in French, is a marriage contract, the symbol of agreement between two families. 
The dowry can range from 50 cents to more than 1000 euros. Before modern money, the dowry was paid in Luba currency of copper crosses. The girl's family determines the amount, which in itself is not important. It is the token of the dowry, changing hands from one family to the other, that is crucial.  
If you accomplish all these steps, you will be well on your way to winning the hearts of your future Luba in-laws.
I have left out a few details, goats and such… but you'll find out later.
Comments