Avec la fin, le jeudi 20 août 2015, du financement par l'Union européenne du projet d'assainissement de la ville de Kinshasa, une question demeure : les déchets seront-ils ramassés et que sera l'image de la capitale? Tous les éboueurs vêtus de salopette de couleur verte risquent de disparaître dans les rues de Kinshasa. Motif : le financement du projet d'assainissement de la ville de Kinshasa prend fin ce jeudi 20 août. Quelle image de la ville présentera-t-elle après ce projet? Que deviendra alors la ville?
Imaginez…
Vous terminez de manger à la hâte votre repas de midi au bord de la rue, un chawarma de poulet accompagné d'une bouteille de jus. Il y a un pousse-pousseur qui ramasse la poubelle d'un malewa à côté. Vous en profitez pour jeter l'emballage papier et la bouteille en plastique dans son chariot. Vous savez qu'il va amener tous ces déchets à la station de transfert la plus proche, où est marquée "Awa Bobwaka Matiti Ofele." Là un camion viendra prendre et amener ces déchets loin, plus loin que Ndjili, jusqu'à Mpasa pour l'enterrer. Vous êtes donc sans soucis. Mais si le camion ne venait jamais? La station se transformerait en une montagne d'immondices qui amènerait dans tout le quartier des moustiques, des mouches, des rats, des maladies, sans oublier les mauvaises odeurs.
Ce scénario se répèterait à travers les 61 stations de transferts, distribuées dans 9 communes de Kinshasa, notamment Barumbu, Kinshasa, Gombe, Lingwala, Kintambo, Bandalungwa, Ngiri-Ngiri, Kasa-vubu et Kalamu.
"Le projet [d'assainissement] devait fermé l'année passée, mais la ville a dit qu'elle n'avait pas les moyens." explique M. Apollinaire Mukanya Mpopola, gestionnaire de projets pour l'Union Européenne. "Pour que le projet continue encore une année, l'Union Européenne a ajouté $10 million."
En 2007, l'Union Européenne avait vu le besoin d'un projet d'assainissement pour la ville de Kinshasa. Alors ils ont créé PARAU, le nom actuel du programme urbain de travaux routiers et d'assainissement. La section assainissement a 3 volets: le ramassage des déchêts solides, car la population avait des ordures ménagères qu'ils ne savaient pas où jeter; la réhabilitation des canivaux pour éliminer les eaux stagnantes; et l'apport d'eau potable pour venir en aide à des populations vulnérables.
Pour gérer ce projet d'assainissement, l'Union Européenne dépense en moyenne $1 million par mois. En 8 ans, l'Union Européenne a dépensé $74 million. Ce 21 août, l'organisation européenne arrêtera tout. Elle ne fera plus rien. La gestion du projet PARAU sera déléguée à la ville de Kinshasa, y compris tous les bacs, les 36 camions multibennes, les sites de transferts à gérer, etc. Ça sera la ville de Kinshasa qui sera entièrement responsable pour sa propreté. Donc pour que la ville puisse prendre la relève de PARAU, il lui faut ce budget de $1 million chaque mois, soit $20 par personne par an.
"Dans le budget [de la ville] il n'y a rien pour l'assainissment." Ajoute Mr. Mukanya de l'E.U. "Ce n'est pas une priorité du gouvernement."
La ville se défend.
"Vous voyez les gens qui nettoient les rues?" Dit le professeur Biey Makaly, qui depuis 2004, travaille dans l'assainissement pour l'hôtel de ville. "Ça, c'est la ville et le gouvernement de la République qui s'occupent de l'assainissement. Donc dans cette gestion de déchets, il n'y a pas que l'évacuation."
Le professeur Biey est directeur général de la Régie d'Assainissement et des Travaux Pratiques de Kinshasa, en abrégé RATPK, depuis sa création en 2008. En d'autres mots, la RATPK est la structure technique de l'hôtel de ville de Kinshasa qui s'occupe de l'assainissement, l'environnement et les travaux publiques. Pour le professeur Biey, les déchets, il s'y connait! Il a un doctorat en Sciences de l'environnement et enseigne à l'Université de Kinshasa.
Depuis le vendredi 21 août 2015, il est le gérant absolu de l'assainissement de Kinshasa,le gérant absolu de l'assainissement de Kinshasa; une ville de 12 millions d'habitants occupant 2.500 km2 sur les 10.000 km2 de la ville. Le professeur est bien conscient du travail qui se dresse devant lui.
"Nous sommes tous entassés sur un espace assez réduit et ça crèe des problèmes." Il dit. "Notamment, il y a le problème de production de déchets. Chaque jour, les kinois produisent 6000 tonnes de déchets."
Parmi les déchets, 42% sont des déchets organiques, 18% sont du plastique et 11% du papier, cartons et autres emballages. En effet, le directeur général à la RATPK reconnait le besoin financier pour garder la ville propre.
"Dans le budget 2015 de la ville, la prise en charge du projet PARAU n'a pas été reprise." Admet le professeur Biey. "Ce qui fait que la ville doit trouver [l'argent] quelque part."
La ville se mobilise pour prendre la relève. Après les négociations menées par le D.G., la ville et le gouvernement central ont décidé de participer en partie. La ville a choisi de prélever cet argent de son budget d'investissement.
"Le gouvernement central contribuera 75% et la ville 25%," explique le professeur Biey. "Cet arrangement permettra la continuation ininterrompue des travaux d'assainissement, notamment de l'évacuation des déchets."
Il faut préciser que le budget de la RATPK est d'un total de $2.2 million par mois car le bureau gère aussi tous les organismes à Kinshasa qui s'occupent de la propreté publique, de la lutte anti-vectorelle, de la collecte de déchets dans les ménages, et de la vidange de fausse septique.
"Les ONGs nous coûtent à peu près $1,2 million chaque mois." Dit Professeur BIEY. "Et le projet PARAU aussi dépense presque la même chose chaque mois."
PARAU est comme une entité indépendante et auto-financée qui collabore avec la RATPK. La RATPK est provisoirement située sur l'avenue Okitundu. Leur siège est en pleine reconstruction avec l'aide financière de l'Union Européenne (c.à.d. de PARAU). Ils pourront ré-aménager l'année prochaine.
"Le projet PARAU a eu un impact perspectif. Il a collecté [les déchets] en vrac et les enterrent en vrac." Dit Jean Mukunu, qui assume l'intérim du Directeur des études à la RATPK. "Ce n'était pas dans la perspective de valorisation, mais on devait aller avec parce qu'il fallait éliminer."
PARAU a mené des enquêtes pour analyser l'impact du projet. Maurizio Filippi, le coordonnateur principal du projet PARAU, explique les résultats de leur enquêtes:
"Il y a eu une baisse d'incidents de maladies de presque 70% dans les anciennes zones où nous avons commencé et 40% de baisse pour les nouvelles communes."
"Notre intervention était de nettoyer. Nous sommes un projet," Continue M. Filippi. "Nous ne visons pas à nous substituer à l'état."
Question : à la veille du changement de l'équipe de management, la nouvelle équipe sera-t-elle en mesure de faire face à ce travail qui demande énormément d'attention et de rigueur?
"Tout le personnel PARAU, ce sont des compatriotes." le professeur BIEY explique. "La plupart ont accepté de transférer à l'équipe congolaise de RATPK."
Le DG Biey assure que l'équipe de PARAU gardera ses même bénéfices. Mais, le chauffeur de camion à PARAU gagne entre 300 et 400 Euros.
"Je ne connais pas une entreprise locale qui paie 300 Euros," déclare Jean-Paul Muengie, le coordonnateur principal adjoint du PARAU.
En effet, Jean Mukunu de la RATPK admet que cela sera un challenge.
"Chez nous ici, le chauffeur a à peine $100." Il déclare. "Quand il n'y a pas de budget, on ne sait pas payer les gens. Mais nous y sommes et on y croit."
Mais la question se pose toujours: les camions, viendront-ils chercher nos poubelles demain?
"Chacun va faire ce qu'il a toujours fait." Commente le DG Biey de la RATPK sur la fin du programme européen d'assainissement le 21 août. "Sauf [il y aura] changement de tenue. Les ouvriers ne porteront plus le vert de PARAU, mais plutôt le jaune de la ville. L'uniforme est inclu dans le budget préparé."
It has been a long time since I last posted an entry on my blog.  I have been busy traveling, attending the High Holidays services and applying for a course at MUM.
And now that I have a 6-hour layover in Minneapolis, I can finally rest. I am writing this blog entry at a coffee shop near the bus station.
When I told my friends that I was going on a 21-hour bus trip across the midwest, they cringed.
"No, it won't be that bad," I reassured them. I knew I was going to meet interesting characters along the journey.
During my first layover in Des Moines, IA, the bus station was ugly and the TV was loud. There were few people at the station_ all blue collar_ waiting for the 11:30 pm bus connection.
There was a woman in her 60s sitting nearby. As soon as I unloaded my backpack onto a seat next to her, she started to tell me her life story. So I listened. Her ex-husband had wrecked her brand new car and she had gotten injured in the accident.
"Now all I do all day is watch my house," said the woman, who could barely walk. "I don't go nowhere." she kept her 4-legged cane next to her; I had seen her use it earlier as she moved her feeble body to and from the restroom.
After the car accident, she promptly divorced her husband. "I am never gonna get married again," she said, shaking her head with disgust.
By now the TV was getting louder. The commercials were starting to repeat themselves as Jennifer Lopez (or a celebrity look-alike) was promoting a car.  I was starting to have a headache; I needed peace and quiet. I asked the newly divorced lady to watch over my bags as I went for a walk.
I went for a short walk.  It was a beautiful Autumn evening. Then for dinner, I sat outside on the steps of the Trailways bus station and ate my bagel with cream cheese, a banana and drank grape juice. Soon a fellow traveler joined me.
"Hi I'm Lee!" Despite his name, Lee was not Chinese at all. It turned out, he was Mexican and a truck driver. Lee was pudgy, wearing a baseball cap over a white t-shirt with its sleeves chopped off and dirty jeans. He had a missing tooth up front.
"I drive 7 days a week, 365 days a year," said the man, who works for a company based in South Dakota. "I make about $6,000 a week."
The only reason he was at the bus station and not driving was because his truck had broken down somewhere in Illinois earlier that morning.
"G-d told me I had to get away from my truck," he added.
Lee did not have an apartment. He slept in his truck all year-long and even had a microwave and Satellite TV on it. On Sundays, he drove his 18-wheeler to any Catholic church he happened to travel by, parked it, and attended mass.
Lee had been driving a truck for the past 17 years. Without his truck, he did not know what to do with himself.
"My boss said to take a few days off. What do you think I should do?" he asked me.
I asked him what he missed doing the most.
"I like the Ocean, I like to go fishing…" he rattled off a list of the places he would like to live in in the United States.
After he finished telling me about all the beautiful places, I found out the core of him: he was a lonely 36-year-old man, who wanted to start a family … and had an 11-year-old son in the very city where we were in.
"Well, there is your answer," I said. "Why not spend some time with your son in Des Moines? You rarely see him."
"I can even rent an apartment," he said, his face lighting up with wonder.
"Sure you can! It will be a good experience. And you might even meet a nice Christian woman at a local church."
He thanked me for the advice and said, "from the moment I saw you get on the bus, I saw you had G-d's light in your eyes."
"It must be because yesterday was Yom Kippur."
"Yom what?"
He asked me if we could be friend. Sure on Facebook. As we surf Facebook together on my iPad, he showed me his favorite song: a Christian song with a picture of Jesus in the water. Lee seemed to transcend from the music. When it got to be my turn, I showed him the latest Chabad.org message in my inbox; it's a cartoon about building the biggest sukkah in the world.
He asked again if could we stay in touch. I firmly steered him toward looking for the woman of his life in church. Because yours truly here, being Jewish, was not interested.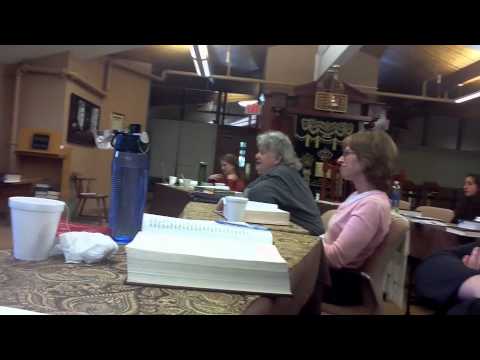 I have spent the last two weeks at Bais Chana's Jewish Studies Retreat for Women in the Twin Cities.
Being immersed in Jewish Learning has been an enriching experience. The women at Bais Chana are supportive of each other as we learn and grow together.
I have filmed myself through some of the activities at Bais Chana. This video gives a snapshot of life at Bais Chana.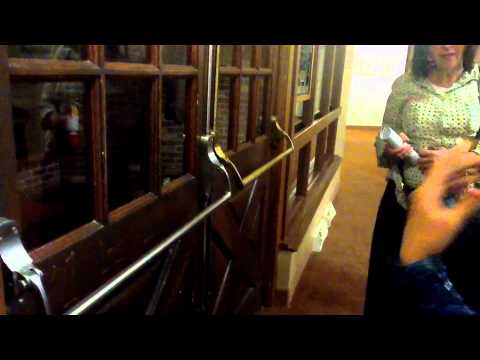 It's 11p.m. My Jewish Study class at Bais Chana just ended.
We read the rebbe's diaries in Yiddish. We discussed the coming of the Mashiach (the Messiah) and why Chabad Jews go to all corners of the world to reach out to Jews.
On our way out, we found a frog on the glass door, looking in. Maybe he wanted to attend class too.
So we asked him… on camera.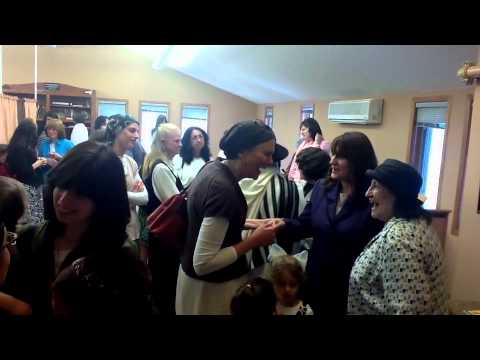 During the Bais Chana's retreat, I got the honor to attend a Bris Milah, a Jewish circumcision ceremony performed on a 8-day old male infant.
The circumcision ceremony took place in a synagogue on a Sunday.
I barely got to see the circumcision itself since the baby was surrounded by his male family members: father, uncle, grandfather, as well as the mohel, a Jewish person trained in the practice of Brit milah (circumcision). I filmed what I could glimpse of the circumcision, holding my iPad high above my head, and standing in the women's section of the synagogue. The mother of the baby and other female family members were also in the women's section.
It was amazing to be immersed in this atmosphere of prayers, songs and joy to celebrate the keeping of a covenant of more than 5,000 years old between the Jews and G-d _ ever since Abraham.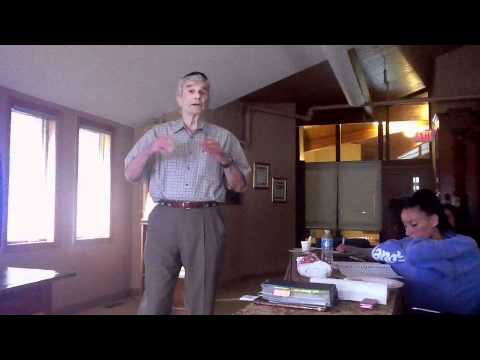 While immersed in Jewish studies at Bais Chana's retreat for women, a senator walked in.
It was Senator Rudy Boschwitz (R-MN), who negociated the release of Ethiopian Jews in 1991 in Addis Abeba, Ethiopia.
Operation Solomon.
One of the most daring missions in history. It resulted in the successful release of 14,000 Ethiopian Jews, who were flown to Israel within a tight window of opportunity: 24 hours.
The operation had required the combined efforts of the United States and Israel. Senator Boschwitz was the main American negociator.
And my friends and I were lucky to hear the inside story of Operation Solomon.
Enjoy the video!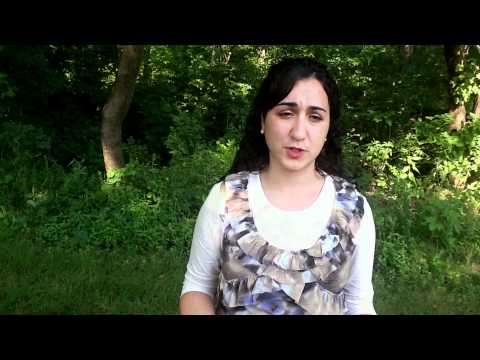 Brochie Kanelsky is a young Chasidic Jewish woman. She is 21 years old and passionate about serving G-d.
I met Brochie at Bais Chana's retreat of Jewish Studies for Women. This was her 11th time at Bais Chana.
In this video, she explains what it means to be a Jewish woman of Chabad affiliation.
Dear Nesta.
I hope all is well with you in Sargeant.
I am learning a lot at this retreat of Jewish studies for women. There are women of all ages, who are all passionate about learning. Our classes start at 9 a.m. and end at 11 pm every night. I am barely getting enough hours of sleep. And it is all worth it.
However, yesterday I got frustrated.
We learned about the role of women according to Jewish Law, which is followed to the letter by Orthodox and Chasidic Jews. The emphasis was of course on the woman's obligation to get married, have children and care for the Jewish home.
"Not getting married at 18 means you're putting off life," the Chasidic rabbi said in class.
I felt like I was going to run out of the classroom. I don't know if the frustration I was feeling was because I was being told that I was not leading a real life or was it because I was wondering _ deep down inside _ if my decision to wait to get married and have children had been a mistake?
Either way, I had to flee the building. On my way to grab my jogging outfit, I met the rabbi. I asked him if wearing pants was appropriate for a woman going jogging. He kindly replied that women usually wear a skirt over their pants.
What?! I thought to myself. Does he know how hot it is out there?
Under normal circumstances, I would have understood. The Chabad dressed code for women is to be covered from the collar bone to the elbows and knees.  And not to cross dress. But I was already agitated by the class discussion on marriage and was not so open to listen. I went for a power walk in the woods to calm down.
Today, I am still thinking about the choices I've made in my life and the decisions I will face as I learn more about my own faith and heritage.
Shabbat Shalom!