This morning I crossed the threshold of my life. 
I woke up, got dressed, packed and left my old life behind. 
The moment I stepped outside, everthing was different. 
I felt light. The sun was airy, piercing through the clouds of rain.  
Even the fare on the bus was different.
"It's 1.80 Euros, right?"
"No, 1.90 Euros now."
My fingers fished through my European coins.
I had enough, enough to go anywhere I wanted and beyond.
I traveled solely on my faith today,
All the way to Paris Gare du Nord.
Guideposts and signs sent me messages along the way  
Play your life.
Write your book in 3 months
Toilettes: 0.70 Euro
An arrow pointed to the Eurostar
The chunnel as Americans nicknamed it.
I smiled and got in the waiting line.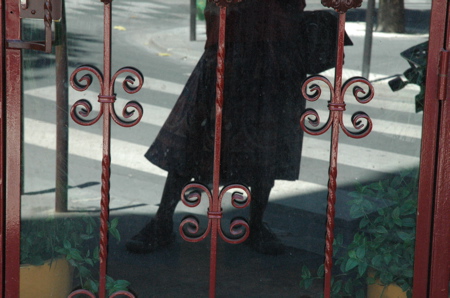 In front of the ticket office, the automatic glass doors closed in front of my nose.
In vain, I waved shyly 
The door did not budge, not detecting me in its radar.
Was I invisible?
Then I moved my entire body, backpack, hips and all 
Engaging my whole being, the glass wall slid away and the path was mine to take.
I had shown determination 
And so Sésame opened.
I jumped over the doorstep, presenting myself to the universe
whole and in complete trust 
"A ticket to the next departing TGV, please," I say to the young man at the counter.
"That would be the Eurostar, madame, at 10:30 a.m."
London will do just fine, thank you.
I hand him the credit card that appeared in my hand like magic
Still new and wrapped in fluffy clouds from the sky above.
Would that be first class, madame?
Definitely!
For you see, while the old woman would have gone for economy
The new me went for self-respect and comfort.
Having passed through doors of emotional garbage, 
I intend to enjoy this life of mine.
Comments