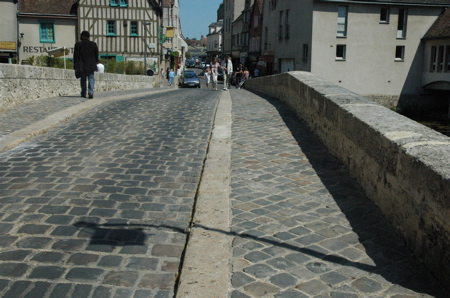 From Paris, I take the train to Chartres. The train is like a time machine. The moment I get out of the station, I step back in time to the Middle Ages.
Cyprian Josson and his wife Martine come to pick me up. Soon the car wobbles slowly on the cobblestone-paved street. I feel like I have landed in a different universe. We get out of the car and start walking through ancient paths.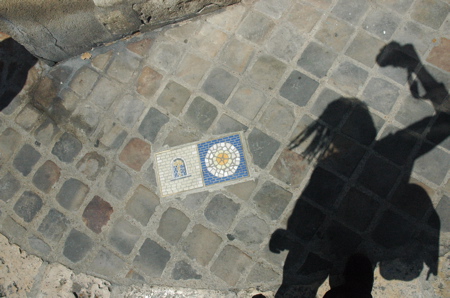 Chartres is old and magical in a very different way from Paris. I can't figure out why Chartres feels so differently.
Maybe it's the time period.
"It's a charming medieval village," said Leslie, an American friend of Cyprian, who has been living in Chartres for the past 21 years. "The cathedral [of Chartres] was built on an old druid site that has strong vibrations for women."
Maybe it's the cathedral and its grotto underneath that makes this town so unique.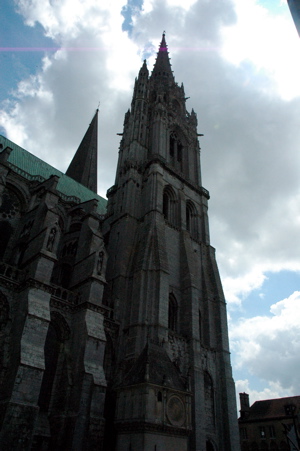 The cathedral rises like a link between the earth and the sky. Through times, it was a place of pilgrimage in France, where Christians came to see the Black Virgin, a statue made by Druids before the birth of Jesus.  The energy current _ in the Druidic cave below _  is said to awaken a person to the spiritual life in her.
Now I understand why during my visit of the cathedral I saw a woman walking around with her hands raised as if to feel and be in tune with the energy of the place.
I admit there is a good feeling in that church; it is quiet and dark and cool. At one point, I decide to sit down in a corner and meditate.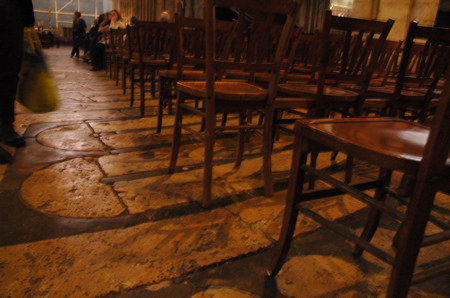 La cathédrale de Chartres has a famous labyrinth, etched in its stone floor. I have been wanting to walk it for years.
There are chairs all over it for Sunday mass.
I learn that once a year, usually on June 21st, they remove the chairs so that people can walk the labyrinth. I make a mental note of the date.
I will be back in Chartres the weekend of June 25th to attend the Gospel Festival of Chartres, Cyprian is organizing.
Maybe I will walk the labyrinth too.
Comments